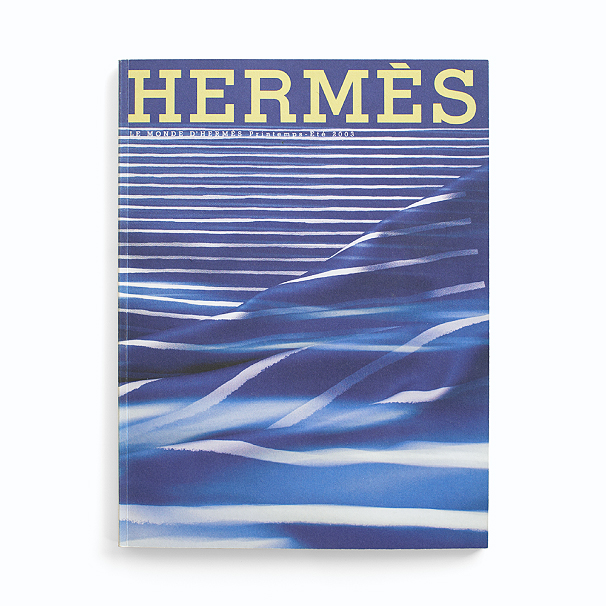 エルメスの世界 No.42 2003年 春夏号
2013年5月11日|増田 浩
Cover: a stylised vision of the Mediterranean offered by the silk scarf of the same name from the new spring-summer collection.
Ancient gods, golden sand, a prolific and bounteous nature and the cultural riches of a multifaceted civilisation – to all this, Hermès is paying tribute in 2003.
LE MONDE D'HERMÈS No.42 Printemps-Eté 2003 from FukutomiShobo on Vimeo.
LE MONDE D'HERMÈS No.42 Printemps-Eté 2003
3. EDITORIAL
10. TABLES IN THE SUN: PORTS OF CALL
24. THE UTOPIA OF THE MEDITERRANEAN BY THIERRY FABRE
28. THE ÈMILE HERMÈS COLLECTION: NEAPOLITAN PROMENADES
38 WOMAN, SPRING-SUMMER: THE DIAGONAL OF ELLEGANCE
44. THERE IS A WOMAN…
54. THE GARDENER OF SCENTS
60. OVER TO YOU: A LIQUID BRAIN BY JEAN-LUC COUDRAY
62. WOMAN, SPRING-SUMMER: LOZENGES
68. A PAIR OF WINGS
76. REPORTAGE: SAND AND LIGHT
82. LUGGAGE: SHORE LEAVE
90. MEN, SPRING-SUMMER: DOING THE SLOW DAZZLE
106. ENCOUNTERS
112. INVITATION: INTIMATE SPACE BY JEAN-MARC TINGAUD
125. PRODUCT DETAIL
136. HERMÈS AROUND THE WORLD